For those who are into such things, this might be the biggest party night of the year. Other people like to keep it a little more low key. How do you plan to ring in the New Year?
I plan to stay in with Mikey and order pizza. :) Much better than being alone. I'm gonna drink some Sparkling Grape Juice (it's my champagne! haha) and Cosmo's (yes, with alcohol!). Oh, and we are probably going to watch the ball drop (I have a bad habit of missing it... On accident.).
HAPPY NEW YEAR EVERYONE!
Current Mood: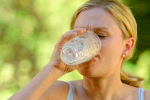 thirsty